Why should you consider joining our supporters?
The mission of the Florida Engineering Foundation (FEF) is to promote and enhance engineering education in Florida in order to position our state as a technological leader in the global economy.
The Florida Engineering Foundation provides college scholarships, supports the MATHCOUNTS® program, provides educational STEM grants for local K-12 program, supports student chapter programs at Florida's public universities and state colleges, teams with ASCE to support their Engineering Encounters Bridge Design contest, supports the ACE Mentoring program, Student Astronaut Challenge, First Robotics competition, and Inspire program. FEF is the custodian of seven named scholarships and ten endowment programs.
The Edgar W. Kopp, Jr. Scholarship has been awarded by the FES Tampa Chapter over the years to a deserving engineering student enrolled in the College of Engineering at the University of South Florida.  The Florida Engineering Foundation is proud that the FES Tampa Chapter has chosen to invest its scholarship funds with the Foundation. This is a win-win arrangement. The Chapter will benefit from higher rates of return on its investment by being part of a larger fund. This also provides scholarship administration through the Florida Engineering Society, ensuring the sustainability of the scholarship. In turn, the Foundation's corpus grows, with resulting increased rates of return.
The USF College of Engineering offered its first classes in 1964, with the first engineering degrees being conferred in Fall 1966.  The namesake of this scholarship, Edgar W. Kopp, Jr., was the first Dean of the College of Engineering. Dean Kopp was instrumental in the formative years of the College. The first of three engineering buildings on the USF Tampa campus, opened in 1967, is named for the former Dean. He was a well-known figure at the young university, which opened its doors in 1956.
Dean Kopp is shown below in the 1911 Baker Electric Car that he used to ride in the USF Homecoming parade.   The car shown was on display in the Kopp Engineering Building until it was moved to the Museum of Florida History for everyone to see. Dean Kopp was ahead of his time with an electric vehicle!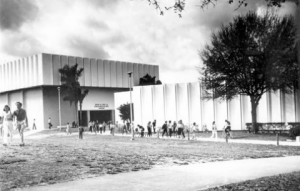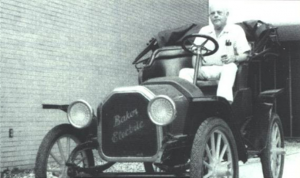 { Comments on this entry are closed }