FELI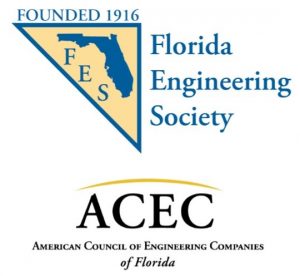 J.W. Hunter – Chair
MISSION
Through its initial 10-month class, FELI enhances the leadership skills of its participants and sets out a clear pathway to put these skills into practice serving our profession and our communities. FELI also provides networking across the current and past classes, serving as an outreach group to business and community leaders. By fostering interaction that puts training into practice, FELI achieves its mission to "Transform Leadership Opportunities into Reality."The Florida Engineering Leadership Institute (FELI) was created with the mission to transition engineering professionals into community professionals and leaders within our societies, communities, and workplaces — an important step in realizing our ultimate goal of professional engineers helping to shape society worldwide.
PROGRAM SCOPE
The Florida Engineering Leadership Institute is more than a "training program." It is a metamorphic experience in which the student transitions from a professional manager to a fully engaged leader equipped with a vision, a mission, the personal connections, and the know how to effectively employ their talents in the service of their community and profession.
FELI runs from November through August and consists of six sessions held in key cities throughout Florida. Four of the six programs begin with a reception on Thursday evening, meet all day Friday, and conclude at noon on Saturday. Often there is an optional golf or other outing offered on Thursday. One session is held in conjunction with the Professional Engineers Legislative Days in Tallahassee and gives students the opportunity to see Florida government in action as well as personally meet their state representatives. The final session is held concurrently with the FES/FICE Annual Summer Conference and Exposition where graduation is celebrated during the opening general session.
Speakers and topics are selected to instill the student with two primary understandings:
A large-scale perspective of the state of Florida and its engineering profession
The individual's strengths as a leader and how to best use them to serve their state, local community and profession.
To achieve a more "global" understanding of Florida, participants study its government, its politics, its place in the world, its current policies and concerns, its economy and its future. In combination with this, students consider how these entities impact the engineering profession.
By virtue of our speaker selection, students are able to interact with state leaders from both the public and private sectors allowing them to form personal connections. Our choice of activities, limited class size, and the focus on fellowship creates a solid bond among class members. Alumni are invited to various functions to enable students to forge an additional link in their ever-expanding network.
Students progress through a series of trainings in which they identify the qualities, habits, and mindset of a leader. Then, they learn to elicit and cultivate these characteristics from within themselves. Finally, they receive the motivation and direction to put their leadership into practice in the service of our state and profession.
This program is intended to develop a vast network of community professionals and business leaders that will boost the positive profile, stature and public perception of engineering professionals in Florida. Since its inception in 2004 through the Class of 2009, over 240 such individuals have graduated from FELI.
GOVERNANCE
The Leadership Institute Steering Council (LISC) is responsible for the coordination and implementation of the program. The LISC serves under the overall guidance of the FES and FICE Board of Directors.
The LISC shall consist of the following: a Chairman, Vice Chairman and a representative of each graduating class. Class representatives include members from each geographical area of the state. Strategic, logistic, administrative and planning assistance is provided by the FES/FICE Director of Continuing Education.
SELECTION COMMITTEE
The Selection Committee is responsible for assisting in the recruitment of qualified applicants and the promotion of the program. The Committee is responsible for the review and recommendation of qualified applicants to the LISC for their consideration and approval.
SELECTION CRITERIA
We seek motivated individuals who will use their leadership abilities for the long-term benefit of Florida as demonstrated by:
A commitment, motivation and interest in serving the profession of engineering in Florida
A concern for Florida's welfare, demonstrated by past community, professional and statewide activities
A personal and professional interest in seeking to be in a key volunteer, appointed or elected state, local or regional leadership role profiled in the statewide community of Florida
Potential or existing occupational responsibilities that have significant influence on important economic, growth management, environmental or infrastructure issues facing the state.
The selection process will target individuals who will enhance the value, stature and exposure of being a class member and Alumni of FELI.
In order to ensure an effective learning environment, the Florida Engineering Leadership Institute class size is limited to 40 individuals; therefore:
preference will be given to candidates with at least 10 years of engineering-related experience, and
preference will be given to members of the Florida Engineering Society (FES) or employees of firms that are members of the American Council of Engineering Companies of Fl (ACEC-FL)
All applicants will be notified of their in writing of their selection status. The LISC will be responsible for the approval of the roster of class participants.
SCHOLARSHIPS FOR
GOVERNMENT EMPLOYEES
A limited number of scholarships are available to qualified applicants who are government employees. To apply for a scholarship, simply complete the Enrollment Application and select "yes" when asked if you want to be considered for a scholarship. Once the scholarship recipients are selected, it is mandatory for them to attend the program in accordance with the attendance rules established by LISC.
Scholarship applicants not selected during the yearly cycle will be notified in writing. Qualified applicants that are not selected for the scholarship as the result of class size or scholarship limitations and/or class composition may opt to pay the tuition fee. Alternatively, they will be given priority during the next selection cycle.
ALUMNI MEMBERSHIP
To receive the full benefit of the Florida Engineering Leadership Institute, continued involvement after graduation is a must. The commitment one makes to leadership training is not merely to oneself, but also to the community of Florida and its successive leaders as well.
Membership requires: graduation from the Leadership Class and payment of either an annual Membership Fee $25) or the Lifetime Membership Fee ($250). Dues are payable in conjunction with the FES membership dues.
ACTIVITIES
Activities sponsored by FELI consist of two major functions: interaction with the current class and programs designed to target alumni.
Interaction with the current class consist of attendance at the receptions held at the opening of each FELI session, participation in the golf outing held at each FELI session, and other class-related activities such as the Poker Tournament.
The Alumni activities consist of two major areas. Receptions designed to provide social and networking opportunities for Alumni, and additional training classes designed to provide follow-up to the initial FELI program.
Alumni Receptions are held twice a year, once at the FES Annual Conference and once in conjunction with the FES Legislative Days in Tallahassee.
Alumni Training Sessions are designed to provide additional or supplemental training to refine those skills learned in the original Leadership Class. Topics may range from personal and professional development to technical or managerial skills. Topics are selected by the Steering Committee based on input from the membership. Sessions may be held in conjunction with the current FELI sessions in order to capitalize on the resources and speakers committed to those meetings.
A bi-annual Alumni e-newsletter is published in order to promote upcoming functions, provide a source of news regarding Alumni (promotions, transfers, new opportunities, etc.), and help Alumni maintain connection through information sharing. In addition, alumni members have the opportunity of participating in group interaction through the social networking site, LinkedIn.
The FELI Class of 2014 has heart! During their class year, they participated in several community service projects, including a hands-on building project benefiting Give Kids the World (GKTW) and hands-on classroom demonstrations promoting engineering as a career. Watch the videos to learn more.

Give Kids The World
Florida Engineering Leadership Institute Class of 2014 – Class Project – visiting classrooms and spreading the word about careers in engineering
FES/FICE STAFF CONTACT:
Kathy Keiffer, CMP
FES/FICE Director of Continuing Education
P.O. Box 750
Tallahassee, FL  32302-0750
850-224-7121
kkeiffer@fleng.org