ACE Mentor Program
ACE Mentor Program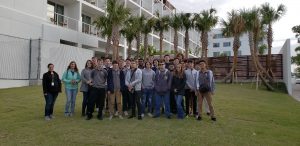 FEF was proud to sponsor the 2019 ACE Mentoring Program for the Northeast Florida and Sarasota/Venice affiliates.  Each affiliate received $1500 used towards field trips for students to observe engineering, architecture and construction in action, and for scholarships to aid in their future college education. Throughout the school year, each student team is set up to emulate an actual design team, with students guided through a mock design project by their architect, engineer, and construction management mentors.
Chip and Terry Hoover attended the Student Design Showcase and Awards Banquet for the Venice area as mentors and representatives of FES. Each team showed their project boards in an expo style while judges asked the students questions about what they learned. Based on the judges' scores, three teams were selected to give a 15 minute presentation to the entire crowd. A panel of judges (engineer, architect, and a construction project manager) selected a final winner. Four scholarships and an internship were awarded from various sponsors. FEF awarded a $500 scholarship to Luwei Fe Abarintos, a junior
at Venice High who is interested in engineering. She is looking forward to exploring all the disciplines to see what best fits her interests. There was impressive technology being used including 3D printers and Revit drawing software.  The students had mentors from all three fields and learned how to work as a team to present their ideas, both important skills for the future.
At the year-end banquet for the Northeast area, over more than $19,000 in scholarships were awarded to graduating seniors. Brooke Robbins (Middleburg HS Team Leader) was recognized by ACE National as Outstanding Mentor and a Creekside student Tarynn Kaelin was awarded a $10,000 CMiC Allen Berg Memorial scholarship through Ace National. FEF would like to congratulate all those who participated in this program! We are so pleased to see students dedicating themselves to their future in engineering.