2012 Florida Engineering Education Conference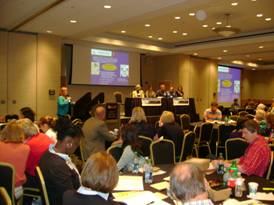 UCF-CECS and our conference partners (the Florida Engineering Foundation, Harris Corporation, Lockheed Martin, Florida Space Grant Consortium, the Central Florida STEM Education Council and the Bureau of Curriculum and Instruction at the Florida Department of Education) came together to support the 158 persons who registered to attend the event and the 121 persons that actually checked in from across Florida.  I have attached the final program agenda for the 2012 FEEC day and you can see where we had two keynote speakers and a full agenda of back-to-back speakers.
The new location (FAIRWINDS Alumni Center) was ideal for the group as you can see per the couple of pictures that I took below.   We had a professional photographer on hand so we are expecting some quality documentation.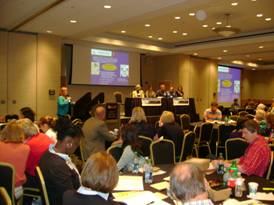 Our office handled the technical requirements of the day and all went well for both the general conference program and the three workshops at the end of the day.  A cursory review of the 100+ attendee evaluations indicate most scores for each category were in the "good" to " very good" range.  Most comments were complementary of the quick paced event with some indicating the room was cold.  What really stood out in terms of feedback was in response to the final question where I mentioned the focus of next year's (2013) FEEC.  I do this each year to help gauge potential interest.  I indicated we will be addressing DoD engineering education programs during our 2013 FEEC and most educators were supportive and 3 have already asked to present.  Please see the sample email at the end of my message.
 Re: Budget ~ We came in just under the projected $8,000.00.  We could possibly double the number of attendees next year and will have to begin applying for support.  Boeing has already given me a green light to propose for their support (given the DoD focus).  We will be contacting each of our conference partners to see if they are also interested.  I will have to obtain at least a 50% increase in order to host 200 STEM educators.
On behalf of UCF-CECS, we thank you for your support and will again be sending a final report once the evaluations have been tabulated and website updated.
Bruce Furino
Director, CECS Outreach
College of Engineering and Computer Science (CECS)
University of Central Florida
E-mail:  bruce.furino@ucf.edu
Phone: (407) 823-4927